Order information:
Thank You for your interest! By purchasing through this website you are buying directly from the author/illustrator, which greatly supports this work. Your book is likely to ship out the day your order is received and arrive within days, possibly the next day, depending on where you live (Seattle/Olympia/Tacoma is typically one day). You may also purchase it from many of our local, independent bookstores listed below. Please let your favorite bookstore or library know about this book if they don't already carry it and have them contact us.
Thanksgiving 2019 Schedule:  Due to  vacation schedules I will be shipping out books on my return on December 4th. I will be sending them Priority mail so you will receive them within 1-3 days.  
Librarians please contact us directly or purchase using Educator pricing, below. This book is currently in many public and school libraries throughout the region and we'd love to have it in yours. Educators and schools please see our class set information below.
If you are a Retail Bookstore with a Resellers License please contact us directly for our reseller pricing and to get set up to begin selling.  If you have sold books for us in the past, you may simply send an email with quantities and contact info to start a new order, and we will confirm receipt of your order and shipment date.
We also sell on Amazon.com but it is not our preference. It became necessary when unscrupulous sellers were representing this book as 'out of print' and asking a very high price. Here is the link to the Amazon site. Note that your book will likely arrive much sooner than stated by Amazon.
See Reviews coming soon set up new page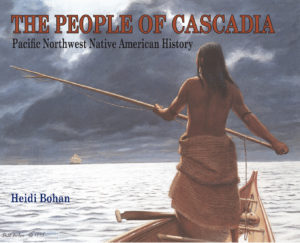 The People of Cascadia by Heidi Bohan
Softbound with laminated cover, 175 pages with over 300 illustrations and color photos by the author, as well as historic drawings and photographs; maps and charts; legends and journal notes; plant lists, and an index geared for students research projects.
Price: $28.00
Note: For International shipments, including Canada, please contact us directly for shipping estimates (at last check roughly $16 to Vancouver BC).
Educator Class Set Prices:
Research Set of 6: $150.00

Small Class Set of 12: $285.00

Large Class Set of 25: $560.00
To order:
By email : Let us know what you want and we will reply, usually within a few hours, with a quote or invoice which can be paid via Paypal or credit card over the phone. You may also print out the Order Form, fill out, scan and send by email. 
By phone: 425-549-0093: Let us know what you want and we will get you a quote or invoice.
By Mail: Fill out the Order Form and send with a check; note this may delay order by up to ten days.

Also available through these independent bookstores:
In Washington:
Columbia Gorge Interpretive Center– Stevensville
Darvill's Book Store- Orcas Island
Dandelion Botanicals- Ballard
Duwamish Longhouse & Cultural Center Seattle
Fort Vancouver Book Store- Vancouver
Fort Nisqually Living History Center- Tacoma
Island County Historical Museum- Coupeville
Kings Books- Tacoma
Millers Community Arts Center- Carnation
Orcas Books- Olympia
Olympic National Park Interpretive Center–
Queen Anne Book Company
Renton History Museum– Renton
Secret Garden Book Store- Ballard
Seattle Art Museum- Seattle
Seward Park Environmental Audubon Center- Seattle
Skagit Historical Society– La Conner
Suquamish Museum- Suquamish
Third Place Books- Lake Forest Park
University Books-Seattle, Tacoma, Bellevue, Mill Creek
Vashon Book Store- Vashon Island
Village Books- Bellingham
Whatcom Museum Bookstore- Bellingham
Wilderness Awareness School- Online Bookstore
In Oregon:
Columbia Gorge Discovery Center- The Dalles
The Vista House– Columbia Gorge
Oregon Historical Society Museum- Portland
Portland Art Museum -Portland
Powell's Books- Portland, Beaverton
Yachats Visitor Center– Yachats
Other Places:
Smithsonian Museum Stores- Washington DC
Amazon.com also carries 'The People of Cascadia' from various sellers including the author (selling as Heidibohan)