Order information:
Thank you for your interest! Orders placed here are fulfilled directly from the author and publisher. We manage all printing and distribution of this book, including those purchased from Amazon, which does not inventory this book, instead orders come to us which we fulfill.  We appreciate your purchases directly from us.
Your book is likely to ship out the same day your order is received and arrive within days, possibly the next day, depending on where you live (Seattle/Olympia/Tacoma is typically one day). You may also purchase it from many of our local, independent bookstores listed below. Please let your favorite bookstore or library know about this book if they don't already carry it and have them contact us.
We also fulfill larger orders for school districts, libraries and independent books stores. We offer discounted class sets for schools, listed below. School districts please contact us directly for a quote and lead times for larger orders, and we usually have the inventory to supply orders up to 250 or more at any given time.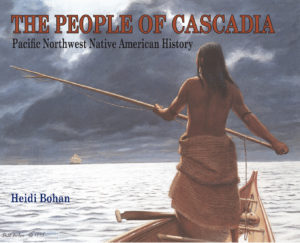 The People of Cascadia by Heidi Bohan
Softbound with heavy duty laminated cover, 175 pages with over 300 illustrations and color photos by the author, as well as historic drawings and photographs; maps and charts; legends and journal notes; plant lists, and an index geared for student research projects. See home page for more details.
Price: $28.00
Note: For International shipments, including Canada, please contact us directly for shipping estimates or we can adjust after you place an order (at last check roughly $16 to Vancouver BC)
Educator Class Set Prices:
Research Set of 6: $150.00

Small Class Set of 12: $285.00

Large Class Set of 25: $560.00

To order:
By Paypal Use the buttons above. You do not need an account with Paypal, simply use your credit card as usual. This is one of the safest ways to order online as your information is securely held by Paypal.
By email : Let us know what you'd like to order and we will reply, usually within a few hours, with a quote or invoice which can be paid via Paypal invoice we can send you, or credit card over the phone. You may also print out the Order Form, fill out, scan and send by email. 
By phone: 425-549-0093: Let us know what you want and we will get you a quote or invoice.
By Mail: Fill out the Order Form and send with a check; note this may delay order by up to ten days.

Schools & Libraries please contact us directly or purchase using Educator pricing, below.
If you are a Retail Bookstore with a Resellers License please contact us directly for our reseller pricing and to get set up to begin selling.  If you have sold books for us in the past, you may simply send an email with quantities (max 15) and contact info to start a new order, and we will confirm receipt of your order and shipment date.
Also available through these independent bookstores:
In Washington:
Adopt-A-Stream: Northwest Stream Center Nature Store- Everett
Columbia Gorge Interpretive Center– Stevensville
Darvill's Book Store- Orcas Island
Duwamish Longhouse & Cultural Center Seattle
Fort Nisqually Living History Center- Tacoma
The Grange Restaurant Duvall
Island County Historical Museum- Coupeville
Mason County Historical Museum- Shelton
Museum of Northwest Art– La Conner
North Cascades Visitor Center- Newhalem
Olympic National Park Interpretive Center– Olympic Peninsula
Port Book & News- Port Angeles
Renton History Museum– Renton
Seattle Art Museum- Seattle
Seaport Books- La Conner
Skagit Historical Society– La Conner
Suquamish Museum- Suquamish
Third Place Books- Lake Forest Park & Seward Park
University Books-Seattle, Tacoma, Bellevue, Mill Creek
Village Books- Bellingham
Whatcom Museum Bookstore- Bellingham
Wilderness Awareness School- Duvall
In Oregon:
Columbia Gorge Discovery Center- The Dalles
Columbia River Maritime Museum- Astoria
The Vista House– Columbia Gorge
Fort Clatsop Visitor Center- Lewis & Clark National Historic Park- Astoria
Oregon Historical Society Museum- Portland
Portland Art Museum -Portland
Powell's Books- Portland, Beaverton
Yachats Visitor Center– Yachats
Amazon.com also carries 'The People of Cascadia' from various sellers including the author and publisher (selling as Heidibohan-peopleofcascadia)